DELL Personal & Gaming Laptops & Computer PC Monitors
Inspiron - Everyday Essentials
The Ultimate Laptop Experience. Inspiring & stylish laptops with leading-edge technology for the ultimate on the go entertainment and gaming experience.
Processor
7th Generation Intel® Core™ i5-7200U
8th Generation Intel® Core™ i5-8250U Processor
8th Generation Intel® Core™ i7-8550U Processor
Operating Systems
Memory
4-12GB, DDR4, 2400MHz; up to 16GB (additional memory sold separately)
Hard Drive
500GB 5400 rpm Hard Drive
1TB 5400 rpm Hard Drive
2TB 5400 rpm Hard Drive
128GB Solid State Drive
256GB Solid State Drive
Alienware Laptops
They are beasts inside and out. Laptops for gamers seeking a mobile HD gaming experience who want a balance of performance and mobility and desktops for ultimate gaming.
HARD DRIVE
1TB 7200RPM SATA 6Gb/s (Standard)
256GB PCIe SSD (Boot) + 1TB 7200RPM (Storage)
512GB PCIe SSD (Boot) + 1TB 7200RPM (Storage)
1TB PCIe SSD (Boot) + 1TB 7200RPM (Storage)
CHIPSET
Intel® HM170 Series Chipset
VIDEO CARD
Intel® HD graphics 530 (Standard)
NVIDIA® GeForce® GTX 970M with 3GB GDDR5 (Standard)
NVIDIA® GeForce® GTX 980M with 4GB GDDR5
DISPLAY
DELL PC & GAMING MONITORS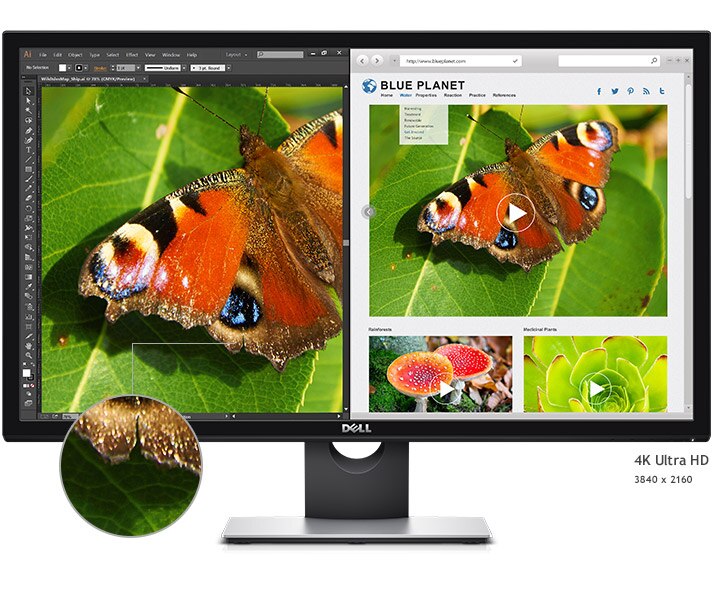 Incredible screen clarity
Focus on the details.

A vision of beauty: Enjoy 28 inches of gorgeous 4K 3840 x 2160 resolution. That's over 8 million pixels – with four times more detail than Full HD resolution. High pixel density reveals extremely fine details onscreen so you can view and edit higher resolution photos and more. 

Don't miss a thing: View content and multitask from two different sources with both Picture-in-Picture and Picture-by-Picture display options.

Product Brochure: Download the PDF file for the Dell 28 Ultra HD 4K Monitor – S2817Q
Have your game keep up
Smooth gameplay: Experience sharp, tear-free graphics with a swift refresh rate up to 155Hz (overclocked) and AMD FreeSync™ for super smooth visuals.

Leave lag behind: Get blazing fast and responsive gameplay with minimum input lag at an extremely rapid 1ms response time.
Bask in every detail: Enjoy vivid edge-to-edge gameplay and crisp QHD resolution. You'll get lost in the 3.68 million pixels–almost two times more than Full HD.
---
Set your sights on victory
Give them gamer envy: Create a seamless multi-monitor setup with the three-sided thin bezel design and expand your gaming landscape.
If looks could thrill: Recon-blue metallic finishing complements Dell Gaming PCs for a unified look and gaming experience. 
Total versatility: Supports AMD FreeSync™ and offers you the flexibility to game with the No-Sync fast refresh option on your existing hardware.
Customize your advantage: Personalize and preset up to three gaming profiles, in addition to three factory preset modes, with a gamer-geared menu.
Made to game your way: With tilt, pivot, swivel and height adjustable features, you can find your ideal viewing position and game for long hours comfortably. 
Effortless Connectivity: With the wide range of ports, hook up this Gaming Monitor to your PC, and add another secondary device – like your gaming console of choice –for simultaneous entertainment options. Plus with convenient front access interfaces, you can easily connect your gaming mouse, keyboard and headphone.
Tricked out and all in
Introducing all-new Alienware monitors, mice and keyboards featuring the iconic design you trust for exhilarating, immersive gaming. Whether you're just starting your collection, or rounding out your arsenal, Alienware accessories are built to enhance your gaming experience as you journey deeper into the game.
---
Iconic design is in our blood.
Looks that kill: A premium, polished silver finish and ultramodern design reflect our commitment to sophisticated appearance, unparalleled quality and gargantuan gaming.

We focused on the details so you can focus on the screen: Your monitor features an ultrathin 3-sided bezel for an expansive 34-inch screen space. Our unique step-venting details help dissipate heat and maximize performance. And we added the unearthly glow of Triad lighting to complete the monitor that's better looking than it has to be.

Curve your enthusiasm: Completely immerse yourself with a sweeping, 1900R curved infinity display that takes you deeper into the game and a 21:9 aspect ratio that makes every vantage point epic. The curved screen maximizes your field of vision, reducing eye movement, so you can stay comfortably focused on the game longer.
---
The competition can eat your dust.
Expand your horizons: In-plane switching panels mean a wide 178°/178° viewing angle from any vantage point and incredibly vivid, detailed sRGB99% color reproduction from wherever you are in the room.

Get real: A 3440 X 1440 WQHD resolution display delivers sharp, crystal-clear graphics with 3.68 million pixels—1.77 times more detail than a Full HD display. So you'll see every blade of grass, every glint of steel, every drop of sweat more vividly, intensely and richly than ever before.

Synched up and ready to roll: NVIDIA® G-SYNC™ technology displays full frames only when the monitor is ready to display them. This means your screen frames load so fast, you can say goodbye to distortions—like tearing and artifacts—and get used to smooth, vibrant images.

By the time this sentence is over: Refresh rates so fast you won't have time to worry about lag. Bring on even faster responsiveness with 100Hz native [or up to 120Hz overclocked] refresh rates and 4ms response times to max out on the highest, fastest level gameplay that looks and feels super smooth.