GEFORCE NVIDIA GAMING GRAPHICS CARDS
With over 400 supported top games, like PLAYERUNKNOWN'S BATTLEGROUNDS, Fortnite, and more from Steam, Uplay, and other popular digital stores, you can play your favorite PC games on nearly any device anywhere you go. Select games from your personal PC game library or purchase new ones, with new games being added all the time. Your favorite titles load faster and stay up-to-date with the latest patches when you stream from the GeForce NOW cloud service.
KEY BENEFITS
Ease and Accessibility
With the technology of tomorrow available today, it's never been easier to use your existing devices as high-powered gaming rigs. Transform nearly any laptop, desktop, or even your SHIELD TV streaming device into the gaming PC you've been dreaming about with GeForce NOW. It's powered by NVIDIA GeForce GPUs, so quality and performance are covered. Winning the game is up to you.
AAA Windows PC Games
You provide your own game content–whether it's your own vast library of titles or your collection of free-to-play favorites. Don't own a game? Look at our GeForce NOW supported games list to see where you can get started. Enjoy your favorite PC games, like PLAYERUNKNOWN'S BATTLEGROUNDS, Fortnite, Far: Lone Sails, and access to over 200 pre-installed popular titles, with new games getting added all the time.
Instant Installs; No Maintenance Required
Instantly install supported games on GeForce NOW directly onto your cloud gaming rig in seconds. Say adios to long wait times for game patches and driver updates. GeForce NOW eliminates the lengthy wait so you can focus on the win.
Ultra Streaming Mode
This mode increases the speed that GeForce NOW streams games to your Mac, Windows PC, or SHIELD TV from 60 FPS to 120 FPS or higher, reducing latency. You're welcome.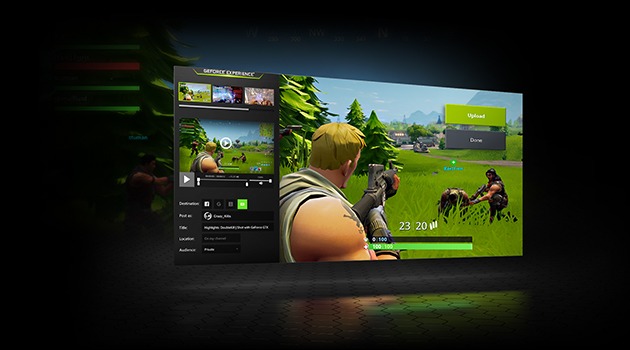 SHARE YOUR GREATEST MOMENTS
Now you can record and share gameplay videos and livestreams on YouTube, Twitch, and Facebook. NVIDIA ShadowPlay™ technology lets you broadcast with minimal performance overhead, so you never miss a beat in your games. The GeForce Experience in-game overlay makes it fast and easy.
Broadcast to Facebook Live: Watch Video > 
Automatically record with NVIDIA Highlights: Watch Video >
GET GAME READY DRIVERS
For each major game release, NVIDIA works closely with developers to boost performance, fix bugs, and improve your gaming experience. Technologies like NVIDIA GameWorks™ give you the tools to optimize gameplay and bring you these improvements through a Game Ready driver update. GeForce Experience automatically notifies you when these drivers are available and, with a single click, lets you update to the latest driver without leaving your desktop.
TAKE AMAZING IN-GAME PHOTOGRAPHS WITH NVIDIA ANSEL
The powerful NVIDIA Ansel photo mode makes it easy to capture professional-grade photographs of your games and share them directly to Facebook, Google Photos, and Imgur. You can choose from super-resolution, 360, HDR, and stereo photographs in supported games.
VIEW SHOT WITH GEFORCE GALLERY
OPTIMIZE YOUR GAME SETTINGS
GeForce Experience takes the hassle out of PC gaming by configuring your game's graphics settings for you. Don't know what texture filtering level to set in Overwatch? Not to worry. NVIDIA taps into the power of the NVIDIA cloud data center to test thousands of PC hardware configurations and find the best balance of performance and image quality. Then it automatically configures personalized graphics settings based on your PC's GPU, CPU, and display.