Description
FEATURES FOR DEEPCOOL ASSASSIN II AMD & INTEL DESKTOP PC CPU COOLER
Asymmetric twin-tower heatsink enhances heat dissipation and improves airflow efficiency.
Shark-tooth design & nickel-plating provide an awesome gamer's vibe.
Dual FDB & rubber-coated PWM-capable fans provides longer lifespan and reduced noise.
Both fans have a minimum speed of 300 RPM to provide the ultimate zero-noise operation.
8 U-shaped copper heatpipes to achieve the best cooling performance.
Solid bending designs maximize the efficiency of thermal conductance.
Highly-polished copper base that makes a perfect contact with the CPU surface to achieve optimal cooling performance.
Equipped with multiple clips to support Intel LGA2011 -V3/LGA2011/1366/1156/1155/1151/1150/775 and AMD AM4/AM3+/AM3/AM2+/AM2/FM2+/FM2/FM1
The new generation of ASSASSIN II has retained key essential features and the excellent heat dissipation of ASSASSIN: nickel-plated heatsink, 8 high-performance heatpipes, highly-polished copper base. ASSASSIN II also includes upgrades from the original ASSASSIN, including: asymmetric twin-tower design, and the latest GF140 fan for enhanced performance-noise ratio. The breakthrough is achieved with the specialized PWM fan with a minimum speed of 300 RPM, achieving utmost silence. ASSASSIN II is the penultimate next-gen CPU cooling solution.
ASSASSIN II
Overclocker's CPU Cooler with Asymmetric Twin-Tower Design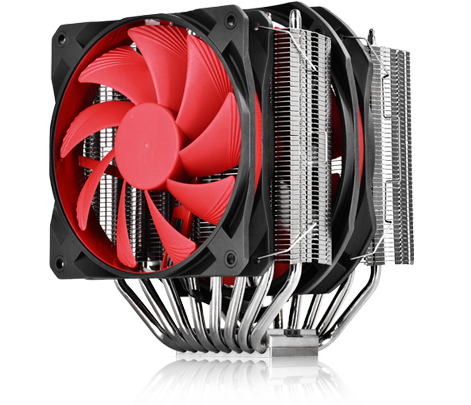 Asymmetric Twin-Tower Design & Nickel-Plated Heatsink
Asymmetric twin-tower heatsink enhances heat dissipation and improves airflow efficiency. Shark-tooth design & nickel-plating provide a great gamer-vibe.
8 x U-Shaped Copper Heatpipes
Optimized heatpipe array for the best cooling performance. Solid bending designs maximize the efficiency of thermal conductance.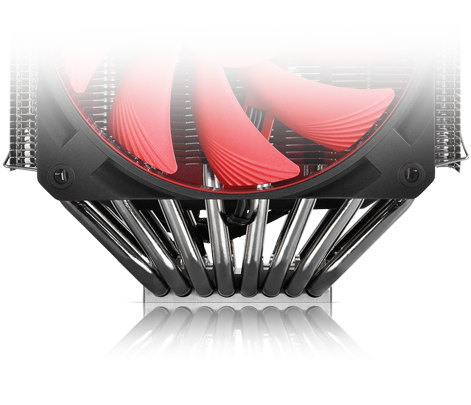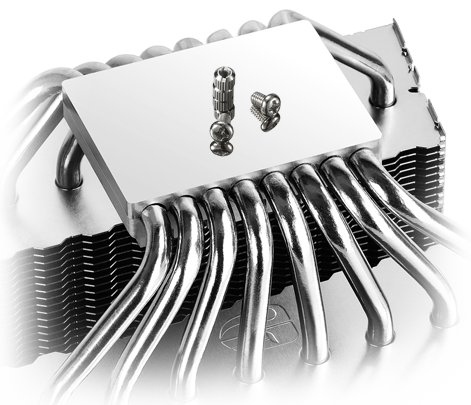 Highly-Polished Copper Base
Nickel-plated & highly-polished copper base with unique bulge design to achieve rapid heat absorption from the processor.
Dual FDB Bearings & Rubber-Covered Fan
Patented GF series fans enhance cooling performance by providing powerful airflow. Vibration-eliminating rubber absorbs operating noise to provide a quiet user environment.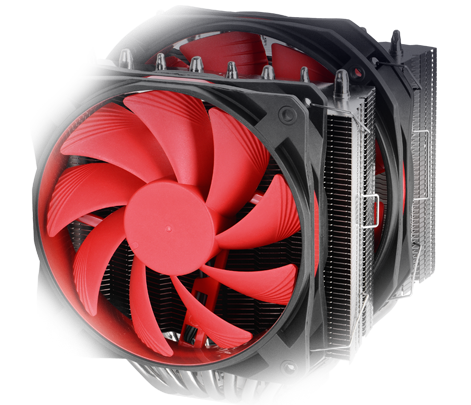 PWM fan with a minimum speed of 300 RPM for extreme silence
Rubber-coated PWM-capable fan provides longer lifespan and reduced noise. Both fans have a minimum speed of 300 RPM to provide the ultimate zero-noise operation experience.
Fluid Dynamic Bearing & Detachable Fan
Japanese technology of Fluid Dynamic Bearing (FDB) & high-quality IC for both fans to achieve super-quiet operations. Detachable fan impeller allows easy application of lubricating oil to greatly extend product lifespan.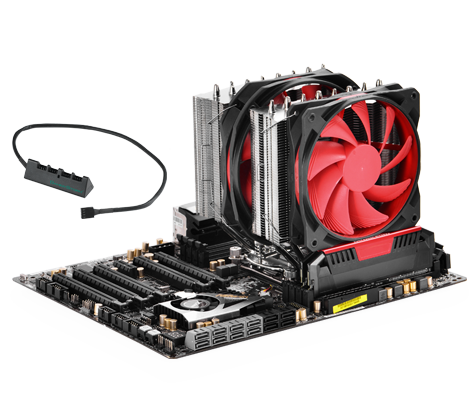 Application For
Intel Socket 150W 
LGA20XX/LGA1366/LGA115X/LGA775
High End Desktop i7
Core i7 Extreme/i7/i5/i3
Core 2 Extreme/Quad/Duo
Pentium/Pentium G
Celeron/Celeron G
AMD Socket 220W
AM4 (with "AM4 Ready" Sticker)
AM4/AM3+/AM3/AM2+/AM2/FM2+/FM2/FM1
Ryzen
APU A12/A10/A8/A6/A4
FX 8/6/4-Core
Phenom II X6/X4/X3/X2
Athlon II X4/X3/X2
Athlon X4
Note: AM4 Kit availability may differ by region, please check with your local retailer for more information.
Technical Spec
| | |
| --- | --- |
| Overall Dimension | 143×158×167mm |
| Fan Dimension | 140×140×26mm          120×120×26mm |
| Net Weight | 1479g |
| Bearing Type | Fluid Dynamic Bearing |
| Rated Voltage | 12VDC |
| Operating Voltage | 10.8~13.2VDC |
| Started Voltage | 7VDC |
| Rated Current | 0.11±10%A(MAX)          0.09±10%A(MAX) |
| Power Input | 1.32W 1.08W |
| Fan Speed | 300±150~1200±10%RPM          300±150~1400±10%RPM |
| Max. Air Flow | 70.08CFM          68.06CFM |
| Noise | 17.8~26.5dB(A)          17.8~27.3dB(A) |
| Fan Weight | 173g          152g |
| EAN | 6933412725688 |
| P/N | DP-MCH8-ASNII |